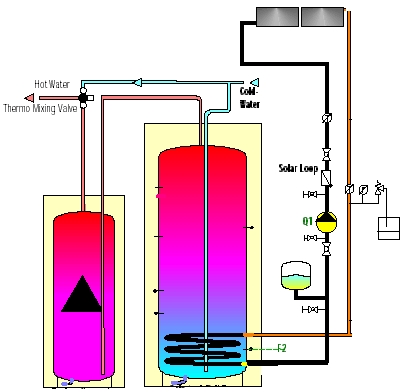 For years we have been able to harness the sun's energy to provide building heat and electrical energy. With new technology such as computer energy management controls, heat and cooling pumps, ground source and heat recovery methods, and modern insulation methods, solar panel energy is boosted, energy systems are even more efficient, and a building can use and reuse it's renewable energy resources, dramatically decreasing it's greenhouse gas emissions while saving up to 65%+ on their gas and hydro bills. Many buildings have achieved net zero annual energy consumption and zero carbon emissions.
By installing solar domestic hot water heating system many hotels for instance have uses less fossil fuel, prevents hundreds of tons of carbon dioxide going into the atmosphere annually, and attracts media attention and environmentally conscious guests. The system also pays for itself in 5 years by energy savings. Solar DHWH systems are even more economical if combined with indoor or outdoor pool hearting for hotels, motels, resorts and public pools. From May to September, when hotels are fully booked, the solar system has the largest capacity to heat water, therefore, the solar heating season and the accommodation industry in the Okanagan are perfectly mirroring each other.
Become a community leader in reducing greenhouse gas emissions. Alternative energy rebates or financing may be available. Contact us for a site consultation and free solar evaluation.