More Green Roofs for Okanagan Businesses
Article courtesy: Business Examiner
SUMMERLAND – Solar technology is a bright idea. More and more Okanagan businesses are choosing Swiss Solar Tech Ltd. to provide sustainable energy solutions.
"Swiss Solar Tech Ltd. was formed for the purpose of offering solar PV for electricity, solar water heating and heat recovery systems to the government, institutional and commercial business sector as well as to the private home owners," says co-owner Susan Huber.
"Our special area of expertise revolves around offering clients the newest technologies available on the market to custom design the most efficient solar systems possible for each project like seasonally adjustable pole mounts, solar trackers, carports and parking islands including also waterproofed solar patio roofs with bi-facial solar PV modules "
Incorporated in September 2001, Swiss Solar Tech has been creating cost-effective renewable energy and heat recovery solutions for businesses up and down the Okanagan Valley.
"After 17 years, we think of ourselves as pioneers in BC's solar industry. We are very proud of how far we've come and this year we have been named the Best Solar PV Installer in British Columbia and won the award for Innovation in Solar PV Design by CV Magazine."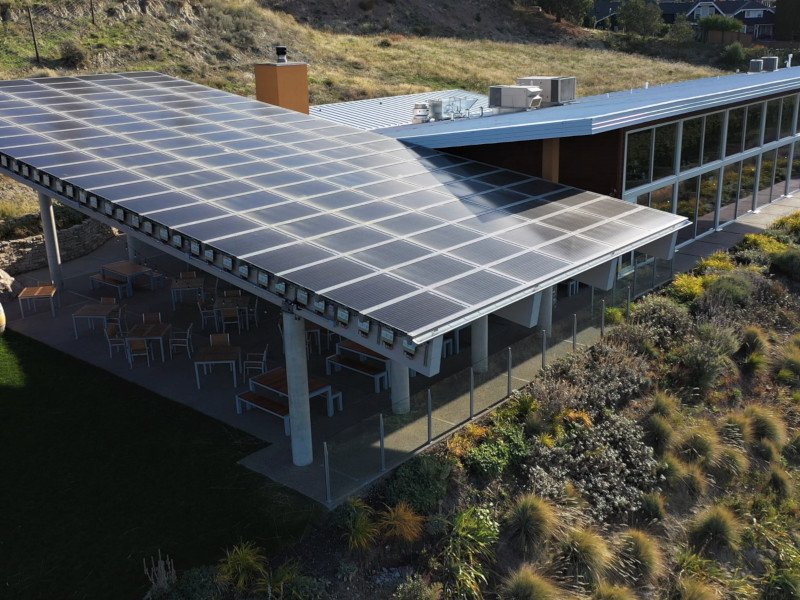 Thanks to their technical knowledge and management skills, the team at Swiss Solar Tech can oversee entire projects, from planning and design to supplying and installing the equipment. Today, their clients include hotels, wineries, manufacturing facilities, restaurants, stores, storage facilities, as well as institutional and government buildings.
Here's what some of these business owners have to say about their investment in solar technology:
Tony Holler, owner of Poplar Grove Winery and Monster Vineyards in Penticton is very happy with the result.
"The reason we opted for solar power really revolves around the Okanagan's high sunlight hours, the increased efficiency and lower costs of solar panels," he says. "This is coupled with our belief that if you can use a renewable energy source like solar rather than fossil fuels, you should do it. Solar also has the lowest environmental footprint of other renewable energy sources like hydro and wind."
Luke Smith, owner of Howling Bluff Estate Winery in Penticton says, "We live in the same place where we grow grapes and produce wine. That is why it is important for us to do what we can to make our world a better place. That is why we have solar panels and why we farm smart."
John W. Skinner, proprietor of Painted Rock Estate Winery in Penticton says, "Painted Rock chose solar because it sends the right message to our community about what our priorities are, and it's simply the right thing to do. The payback has improved dramatically so it makes good economic sense as well."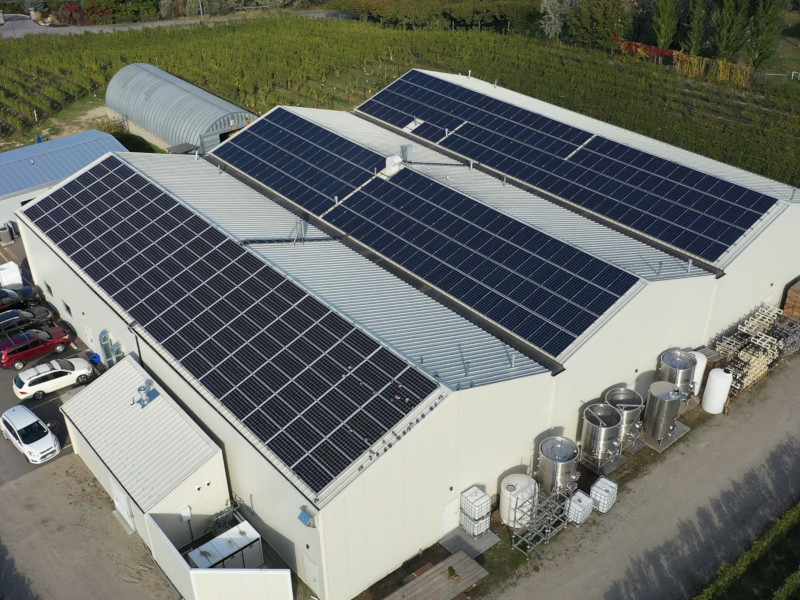 Terry P. Feeny, President of Avro Oil Ltd. in Kelowna is already saving money on his hydro bill. "I first heard of Swiss Solar at my neighbor's dinner party," he says. "John Skinner the owner of Painted Rock Winery was talking about the benefits of the solar system he had just installed at the winery, and also about Roger from Swiss Solar.
"The next day, I called Roger and he stopped in and talked to me about his business and the future of solar power. I was familiar with solar, as we have a home in Palm Springs, and it seemed all my neighbors down there were installing a system and telling me about their $6.00 per month hydro bills.
"I was convinced of the benefits and ordered a system for my self-storage facility in Oliver and also for my warehouses in Kelowna that have meters for security lights etc.
"The first month the storage hydro bill was only $74.00 down from $500.00 and next bill had a credit (thanks to net metering) of $120.00. The Kelowna solar system reduced my total hydro bill to $65.00 down from an average go $600.00.
"One of my motivating factors was the hydro utility bills always go up and never down and who knows how much the charges will be in the near future. The sun hasn't raised its rates in 4 billion years! "I would highly recommend Roger and his professional staff at Swiss Solar if you are considering a solar system."
Jim D'Andrea, owner of Noble Ridge Vineyard and Winery says, "We decided to install a solar energy system to take advantage of the bright Okanagan sun and produce power which is environmentally friendly. Offsetting the high cost of electricity and reducing our consumption on the public grid made a great deal of sense to us."
Go solar! You won't be the first but please don't be the last!